Brussels Folklore
Folklore is very much alive today in Brussels. There are dozens of Orders, Fraternities and associations.
There is for instance the very congenial Order of the "Kiekefretters". The "Brusseleirs", the natives of Brussels used to be called "kiekefretters", those who devour chickens.
There is the Order of the "Kuulkappers". When Saint-Giles, Sint-Gillis was no more than a small agricultural town, its inhabitants were known for cultivating great cabbages. Now of course St-Giles is part and parcel of the great city of Brussels. Kuulkappers? Those who chop down cabbages.
Not last and very definitely not least there is our Manneken Pis. We have quite a few pages on him. Because all folklore parades and many patriotic manifestations come or end here every year. Look no further than here for a good start !
Then there are the groups of descendents of immigrants who brought their culture with them and who keep it alive here in our city. There is for instance the very popular Grupo Folklorico Centro Asturiano de Bruselas. They show us something from far away Asturia in northern Spain and from way back when and they share their joy for life with us. I for one can only express my heartfelt thanks to them all. They are truly splendid with their colourful costumes and their traditional music. Without them Brussels would be a whole lot poorer.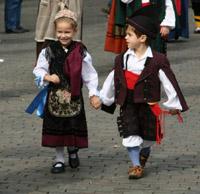 On Sunday, 16 September 2007 the Grupo Folklorico Centro Asturiano
de Bruselas was present and marched together with the Banda Gaites Villa de Xixon.
Both groups were splendid, admired and applauded by one and all.
See here for a few more pictures.
Then there is the Confrérie des Chevaliers de Saint-Michel, the Order of the Knights of St.-Michael, in Dutch "Orde van de Ridders van Sint-Michiel". For them we also have a separate page.
Twice a year on the first days of July the Ommegang goes out. In a great and glorious procession hundreds of men, women and horses all decked out in their Sunday best, exactly like their forebears in 1549, welcome Emperor Charles V. The Ommegang is a very very popular event and one of the climaxes of the folklore year in Brussels. It has its own website with quite a few pages in impeccable—modern day—English.
Another climax in Brussels' folklore year is the Folklore Weekend in September. Never on the first weekend of September because that's reserved for the Belgian Beers, another great event that attracts many thousands. One of the Confreries whose members attend every year is the Order of the Faro. Faro is a great beer that's brewed here in Brussels. Another colourful Order one can hope to meet just about every year is the Order of the Pink Elephant. They promote a beer called Delirium Tremens and they claim that's the best beer in the world.
But folklore in Brussels is quite unthinkable without the Meyboom. They've been planting the Meyboom on 9 August every year for more than 700 years. At the root of this tradition there is a conflict dating back perhaps to 1213 between Brussels and Leuven. Or was it between Brussels and Ghent ?
Planting the Meyboom without the Meyboom Band wouldn't be quite the same. In fact the whole Brussels folklore is unthinkable without the Meyboom Band. The great Meyboom Band was founded in 1958 by Mr. Paul Coeckelenbergh (° Brussels 24/5/1898 - † Brussels 9/1/1991). Paul's parents made high quality musical instruments. Paul is the father of Mrs. Marthe Coeckelenbergh (° 22/6/1938 - † 12/1/2016). Marthe took over from her father as chef of the Meyboom Band. But she was also the first woman to be accepted as a member of the Compagnons of St-Laurence. She was on the Comity of the Order of the Knights of St.-Michael, she was vice-president and treasurer of the Order of the Friends of Manneken Pis; she made hundreds of suits for Manneken Pis and repaired many more. Nadia Luypaert, her daughter, is the current leader of the band. The Meyboom Band is there for just about every folklore event in Brussels, for many patriotic marches and for private parties. They play really well. They play the popular tunes and they play their hearts out. What's more, everyone loves their music and they themselves clearly enjoy every minute of it all. And that too is important.
We have pictures of a few persons who are or were prominent in the Folklore of Brussels: Josée and Edmond, Maurice Deman, Georges Minne, Louis-Philippe Moyson, Paul and Marthe Coeckelenbergh and Mariette. Let's hope we'll be able to add a tribute here to many more.
Paul Coeckelenbergh et Marthe

Notre ami Georges Minne

Josée & Edmond

Manneken Pis

Mariette Grignard

The official website of the Order of the Friends of Manneken Pis
Le site officiel des Volontaires de Bruxelles 1830
La Confrérie des Chevaliers de St-Michel


MijnPlatteLand.com

Most recent update : 13-03-2022
Copyright Notice (c) 2022