The Adegem Canadian War Cemetery
Who are these men who lay buried here?
The complete list in alphabetical order
The list of the 12 plots
The list of the Regiments whose men are buried here
The alphabetical list by Regiment

The first row of graves the visitor comes to is labelled AB. When we go to the first grave on the left we see the stone is marked on its left side with "1 AB" The "1" in this code stands for Plot 1. In the Adegem Canadian War Cemetery there are 12 plots. "AB" is the row. And after the row we see quite often in the literature used i.a. by the Commonwealth War Graves Commission the number of the grave. For G.F. Snaith the grave would then be labelled "1 AB 1". And for A.H. Brooks on his right the code is "1 AB 2", the second grave of row AB in plot 1. The next grave is that of T.C. Fletcher (1 AB 3) and so on.
Closer to the middle of this row you come to the stone of R.S. Hewett. On its left side you may read to 2 AB. If you keep going further to the right you come upon the grave of R. Froude. With his grave starts 3 AB, same row, plot 3. And then a little further to the right you come to the middle alley and in front of you is the Cross of Sacrifice. Further to the right on the right side of the middle alley and still on the first row you have the grave of H.E. Simpkin marked on its left side with "4 AB", 4th Plot, Row AB.
The first grave on the left of the next row up is labeled 1 AA on the gravestone of L.A. Evetts. It is right in front of G.F. Snaith.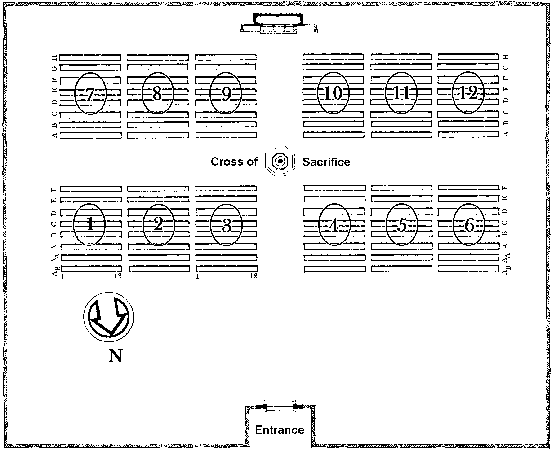 On this layout you can clearly see 12 ellipses with the number of each plot in them.
And here is our English translation of a great book by Mr. Hugo Notteboom about the cemetery and the commemoration ceremonies held here from 1945 till 1994. Its title is In Flanders Fields. We highly recommend it.
For those of you who prefer Dutch here is the original text of the book.

The complete alphabetical list of the men buried in the ACWC
The list of the 12 plots
The list of the Regiments that have one or more of their men buried in the ACWC
The alphabetical list by Regiment
All about the Adegem Canadian War Cemetery
All about Adegem


MijnPlatteLand.com

Most recent update : 17-02-2022
Copyright Notice (c) 2023