The Adegem Canadian War Cemetery
Adegem is home to a Canadian War Cemetery. The Adegem Canadian War Cemetery is at the same time like a very beautiful, quiet, peaceful garden and a place drenched in deep deep sadness.
These pages are meant as a tribute to those who suffered and to those who died to give us back our freedom. We have here on this website at least one picture of every gravestone in this cemetery.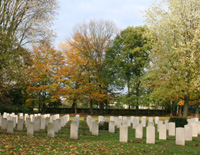 This page gives you all the information you need to view some of these burial monuments and to easily find someone laid to rest here.
The cemetery is divided in 12 plots. Here is a list of these 12 plots with a word of explanation.
And here is a list of all the Regiments (in alphabetical order) who have one or more of their men buried in the cemetery.
And here is a list of the names of the fallen in alphabetical order.
Many people have written to me since I put up these pages here about this cemetery. Most tell me about a relative who's buried at Adegem and whom they will never forget. I then go and see the grave of the hero they wrote to me about. And a few others also.
One I'll never forget among many others is Antoon Devreker. None wrote to me about him. No need to. Antoon was born in Eerneghem in West-Flanders. Shortly before the war the Devreker family emigrated to Canada. Antoon came back as a soldier but after many heroic deeds he lost his life on 30 March 1945, so terribly close to the end of that terrible war. He was first buried in the Netherlands but his parents requested his transfer to Flemish ground. Here, thanks to Mr. Nico Van Gijn, is a copy of his funeral card.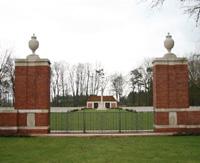 Who are these men buried here?
The entire list, last names in alphabetical order.
Construction of the cemetery started in February 1945. Now there are 1146 headstones, 849 for Canadians, 256 for men from the United Kingdom, 33 Polish soldiers, 2 Frenchmen and a few others.
Private Kenneth Donald Duncanson was killed in action on 14 September 1944. First he and half a dozen other men of the Algonquin Regiment were listed as missing. His remains were found in November 2014 near Damme, the beautiful town that was from 1200 for about 150 years the world sea port of Bruges. The recovery of his remains and the identification took a while. The remains of several others also killed on that fateful day have not yet been found. On 14 September 2016 he was interred with full military honours, exactly 72 years after his death.
Every year, since 1945, in September, there has been a ceremony in memory of the men buried here. Mr. Hugo Notteboom wrote a very fine book about these annual ceremonies of the first fifty years. It's called "In Flanders Fields". The good people of Adegem.be have put it on the internet. Here is Mr. Notteboom's original text in Dutch and here you find our English translation.
You can now search our ACWC website: 
The annual Canadian-Polish Remembrance Ceremony is on the second Sunday of September. And we imagine they always start at 10 o'clock or 10:30 to make sure everyone is ready for a minute of silence at 11 o'clock.
We acknowledge the Commonwealth War Graves Commission as the source of our information for the names, service numbers, dates of death etc. of the men laid to rest in this cemetery.
And finally this is a word of appreciation for Mr. Rudy Devos who makes sure the place always looks perfect. We have never come to the cemetery and found anything at all below par. Thank you, Sir !
All those young lives mowed down. What for ? Here is something I must get off my chest: our considerations on tyranny, war and related matters. Please read it and please let me know what you think about it all. And yes I know, the Canadian soldiers who came to free our country were heroic volunteers.

More pictures of the Adegem Canadian War Cemetery

The complete alphabetical list of the men buried in the ACWC
The list of the 12 plots
The list of the Regiments that have one or more of their men buried in the ACWC
The alphabetical list by Regiment
All about the Adegem Canadian War Cemetery
All about Adegem


MijnPlatteLand.com

Most recent update : 17-02-2022
Copyright Notice (c) 2023