Bagnols sur Cèze
Bagnols is a friendly Mediterranean city in the Gard Departement (30). It's just on the edge of the Provence. Its roots go back to the 13th Century but it might very well have been a Roman town. Its name comes from the Latin balnearius which means baths. And of course it's on the banks of the Cèze river.
The old narrow streets around the arcaded central square are as charming as the sunny countryside all around the city. Bagnols is still untouched by mass tourism and let's hope they keep it that way for a good while yet, because so often in order to accommodate too many tourists the things worth a visit are disfigured or destroyed.

Bagnols is right in the middle of three regions: Languedoc-Roussillon, Provence-Alps-Côte d'Azur and Rhône-Alps. It is near quite a few places you might also want to visit. It's a little more than 50 km north of Nîmes. It's a mere 35 km from Avignon and you pass near Chateauneuf-du-Pape; 50 km to Alès to the west; 35 km from Orange via Roquemaure but only 25 km on the more scenic route via Caderousse; it's 35 km from Barjac.
But just before Barjac you might wish to try out the Mas du Terme, a really superb hotel with an equally superb restaurant, surrounded by their own vineyards. Now here is a hotel we can recommend. (Please note: this may look like an ad, we admit it, but it's unsolicited and we receive no payment for it.)
And here follow two paragraphs which we took leave to copy from Bagnols' official website. We agree entirely and we couldn't have put any better, and we hope that's enough of an excuse for this bit of "borrowing".
A perfect place for your vacation, Bagnols sur Cèze is surrounded by villages full of character and charm that await your arrival. Archeological sites, Côtes du Rhone vineyards, markets, museums, hiking paths are among the many picturesque sites where you will be able to discover the local color and culture.
And Bagnols sur Cèze is perfectly located for outings, within an hour you will visit the gorges of the Ardèche river, the Cevennes, the Mont Ventoux, the Mediterranean, Camargue, Avignon, Nîmes, the Pont du Gard, Arles, and much more.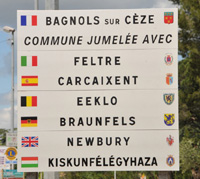 Bagnols proudly shows all visitors it is twinned with 6 cities one of which is Eeklo in our Meetjesland. That's why we tell you here about this charming place.
In the days before television people from Eeklo and the surrounding villages hired a bus to go all the way to Bagnols to visit the city and the surrounding villages and to meet again the friends they had made on previous visits (visits also of course by people from Bagnols to Eeklo). Some of these friendships lasted for a very long time. For instance Mr. Hubert De Bock from Watervliet was still in touch with a family of wine growers from Orsan until well into his nineties. We made it our business to find out about this and we assure you the Viognier of the Coopérative d'Orsan was really superb and very good value for money. That sort of thing creates new problems: how can a tourist who came by plane or train bring home with him a few cases of this Viognier and how does he try out their other wines ?) Unfortunately the Coopérative of Orsan was closed in 2011.
Go here for Bagnols' official website.
Si vous êtes de la région de Bagnols et si vous êtes venu à Eeklo racontez-nous !
Bent u van ons Meetjesland en heeft u deelgenomen aan één van deze verbroederingen dan horen we graag van u.
If you took part in one of these twinning events please contact us and tell us your story.
15 August 2011 in twin city Eeklo

Our pictures of Bagnols sur Cèze together
About Bagnols sur Cèze
Eeklo (in English) (en français)
All about our Meetjesland

You want to share some of your best pictures of Bagnols sur Cèze with us ?
Please contact us.

More from abroad:
The Mill de la Sablière in Floirac, Gironde, France
Elazig in Turkey

MijnPlatteLand Welcome page




Most recent update: 21 April 2021