The Meetjesland in the north of East-Flanders, Belgium
Bassevelde
In 1171 we find written mention of Bascevelde and Baszevelde. In 1183 it was Bazhcevelde. The first part of the name comes from the Indo-European 'bhad-to' that via 'bhasto-' became 'badius' (brown) in Latin. The second part 'velde' comes from the Germanic 'feldu' which meant wasteland.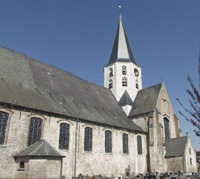 The oldest cultivated part of Bassevelde is between the Oude Boekhoutestraat (Old Boekhoute Street), Heulkenstraat, Assenedestraat and Dorpstraat and dates from the second half of the 12th Century. Bassevelde was a part of the Boekhoute Corporation that together with Assenede, Axel and Hulst belonged to the Four Corporations.
The parish of Bassevelde originally belonged to the bishopric of Utrecht but in 1264 after a dispute it was ceded to the Bishopric of Doornik (Tournai) together with Oosteeklo, Kaprijke and Watervliet.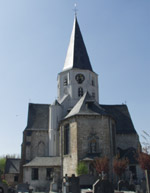 In the northern part of Bassevelde on the border with the polder region of Watervliet there is the "Heerst". This is a sandy ridge that runs from Bentille all the way to Boekhoute. Around 1390 a dike was built on this higher ground. It was called the "Landsdijk" (Land Dike), later renamed the "Graafjansdijk" (Duke John's Dike). The Landsdijk is also a quarter of Bassevelde. Here more about it.

During the religious troubles in the second part of the 16th Century Bassevelde was a center of the reform minded—read anti-Catholic—in the area.
The oldest parts of the Notre Dame Assumption Church, Bassevelde's main church date from the late 13th, early 14th Century. They are beautiful examples of early-gothic architecture. The church is surrounded by one of the few remaining walled cemeteries. Since 1981 the ensemble of church and cemetery is listed as a protected monument.
The population increased here from the 19th Century on and since 1904 the Landsdijk is a separate parish. Its church which dates from 1910 is dedicated to the Immaculate Conception and has the French king, Saint Louis as its patron saint.
Bassevelde has its own beer. Needless to say it's called Bassevelde. It's a tripel, 9% abv, brewed by the Van Steenberge Brewery of Ertvelde. What else can we tell you about it ? It is just simply superb !
Those of you who speak Dutch you can find out what's happening in Bassevelde on its official website here.
Source for much of the above: pp. 34-35 of the excellent "Streekgids Meetjesland" (Meetjesland Regional Guide), 1998.
More recent pictures from Bassevelde


Here we have
a few older
pictures from
Bassevelde
Een brochuurtje over de eerste 125 jaar van de Koninklijke Harmonie St.-Cecilia van Bassevelde


More pictures
Our Meetjesland — Table of Contents — Find something in this Meetjesland website


MijnPlatteLand.com

Most recent update : 02-05-2021
Copyright Notice (c) 2023