The Meetjesland in the north of East-Flanders, Belgium
Rieme
The region called Rieme was first mentioned in writing in 1295. It was of strategic importance because here the Antwerp Road crossed the Sasse Canal.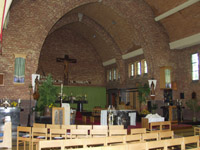 Rieme's St.-Barbara parish was founded in 1927 and on 31 March 1935 the new parish church was consecrated.
During WW II the American Air Force bombarded Rieme repeatedly to destroy German fuel depots. As a result the town was largely destroyed.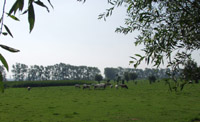 The church was damaged in 1940 and totally devastated in 1944. Building work on the current church was started in 1955 and completed in 1963. The architect was H. Vaerewyck.

Our source for most of the above: "Streekgids Meetjesland", pp. 75-78 by Ernest Van Herck.
Many people were executed in Rieme by the Germans during WW II. A monument was erected to commemorate these victims of Nazi inhumanity. But this monument was later moved to Oostakker and the whole area was opened up for industry to expand the activities of the port of Ghent. Just behind the church you can still see a meadow but beyond it you now see the signs of industrial progress sticking out above the tree tops.
Rieme is since 1977 administratively part of Evergem together with Belzele, Doornzele, Ertvelde, Kerkbrugge-Langerbrugge, Kluizen, Sleidinge and Wippelgem.
According to the official website of Evergem the population of Rieme stood at 953 persons on 31/12/1990 and twenty years later it had grown to 1,224.


More pictures
Our Meetjesland — Table of Contents — Find something in this Meetjesland website


MijnPlatteLand.com

Most recent update : 23-06-2023
Copyright Notice (c) 2023