The Meetjesland in the north of East-Flanders, Belgium
Vosselare
The earliest mention of the name "Furslare" dates from 1087 in a copy of the 13th Century. The first part "furs" means gorse, whin and the second part "laar" means a piece of untilled land.
Vosselare had its own lords until the 14th Century but then became the property of the Seigneurs of Nevele. The most important Seigneury, the "Hof ter Mere" (hof = farm), was part of the tenant farm of Nevele. The walled in castle "ter Mere" was the headquarters of the Seigneury.
In 1300 Vosselare was sacked by the army of Charles de Valois. The town also suffered from the battle of Nevele on 13 Mai 1381. On 25 May 1452 the village suffered because of a battle near the village between Ghent and the count of Estampes. Protestants called geuzen have attacked the church and town on 4 October 1575. The village was attacked by French troupes of Louis XIV in Mai 1673, in October 1674, again in January 1675 and during the siege of Ghent in 1678. Six thousand French knights occupied the village and destroyed the harvest in August 1684. The church was sacked and damaged twice in 1688, again in 1691 and 1696. And many extra deaths occurred between 1676 and 1695 due to an epidemic.
A document of 1087 mentions for the first time a church. This was no doubt a wooden church. The church that was last restored in 1893 according to the plans of architect A. Van Assche had a tower and a spire of the 14th - 15th Century entirely built with white stone from Balegem. In the frontage of the current church also in white stone from Balegem, fragments of the old frontage, are still visible. On 22 October 1918 the Germans destroyed the church. It was replaced with a late-Gothic cruciform church with 3 naves and with a small octogonal church spire. This church was blown up on 24-25 May 1940. Its furniture didn't survive the Second World War either.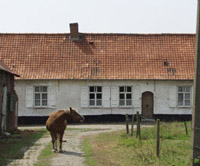 The church was rebuilt after WW II but hardly resembles the original even though it is still a cruciform church with 3 naves now under one saddle roof. It is built of sand stone and no doubt the lower parts of the walls were kept. Several tombstones dating from the 14th and 15th Century lie in the church, some of the Van der Meersch family of Nevele dating from the 15th Century. The church organ was built by Loncke and it produces a magnificent sound.
Every year at the end of June there is a horse blessing ceremony.
On 1 January 2011 Vosselare had a population of 1,268 and exactly six years later there were 695 women and 692 men. That's a total population of 1,387.

The source for much of the above is the excellent "Streekgids Meetjesland", 1998, pp. 125-126 by Jan Luyssaert. See also: Our Sources.


More pictures
Our Meetjesland — Table of Contents — Find something in this Meetjesland website


MijnPlatteLand.com

Most recent update : 22-04-2021
Copyright Notice (c) 2023