The Meetjesland in the north of East-Flanders, Belgium
Nevele
We find the name "Niviala" for the first time in a document of 941. There is some uncertainty about the etymology of the word. Perhaps it came from the Celtish word "nevia-ialo" which meant new or newly developed land. A charter of Nevele has not been kept. Only in 1072 do we hear for the first time of Walter van Nevele as Seigneur of Nevele.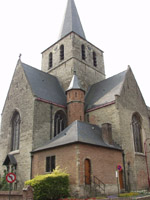 The first seal of Nevele that we know today dates from 21 June 1316 and that makes it the second oldest of Flanders. Here follows the translation of the text on it: "Seal of the aldermen of the city of Nevele". At the time of the Battle of the Spurs Nevele was already a city.
(Allow me a parenthesis for those who have not been taught a great deal about this historic event perhaps played down somewhat in certain quarters. In this battle at Kortrijk (Courtrai) on 11 July 1302 the flower of French nobility on their magnificently decked out horses was defeated by Flemish burghers and ordinary men on foot led by Count Guy de Dampierre. On the battlefield after the blood bath countless golden spurs were found.)
In the beginning of the 14th Century the Seigneurs of Nevele built a second castle in Ooidonk in St-Martens-Leerne. In 1381 Nevele is the center of a terrible disaster in the war between the people of Ghent and Count Louis van Maele: the castle, the church and most of the houses of the town are completely destroyed. A square tower was the only small part of the castle that was standing. And some of it is still there today.
In the turbulent 16th Century Nevele suffered badly from the sackings and the iconoclastic fury and destruction. As a direct consequence of this conflict Philip de Montmerency, count of Hoorne (Hornes) and Seigneur of Nevele was decapitated on the Grand'Place in Brussels on 5 June 1568. The castle of Nevele was in ruins and the Seigneury expropriated.
It looks like Nevele never fully recovered from all that. Not till the 18th Century was there some improvement in the situation. But the 19th Century was also bleak and hopeless. To find out more about the end of the 19th and the beginning of the 20th Century one has only to read the works of Nevele's own Cyriel Buysse.
Just before Armistice Day in 1918 the town and its church were once again thoroughly destroyed and a similar fate awaited them again in May 1940.
Nevele is the birthplace of Aldhemar Camille Vandercruyssen, a 19th Century writer and friend of Hendrik Conscience. Nevele is also the birthplace of Cyriel Buysse and the Loveling Sisters.
The source of the above is the excellent "Streekgids Meetjesland", 1998, pp. 116-118. See also: Our Sources.
Rosalie and her sister Virginie Loveling were both writers. Both were born in Nevele: Rosalie on 20 March 1834 and Virginie on 17 May 1836. Their sister Pauline was the mother of Cyriel Buysse. After the death of their father's mum the girls went to live in Ghent where they came into contact with free thinking—read anti-clerical intellectuals. And armed was with these liberal views they returned a few years later to Nevele and they they went to church on Sundays like most everyone else. Together Rosalie and Virginie published their poems and short stories. Rosalie died in Nevele on 4 May 1875. And Virginie now wrote mostly short stories and novels. Together with her nephew Cyriel Buysse she wrote a novel about the French speaking bourgeosie of Ghent. That no doubt raised an eyebrow here and there. Virginie died in Ghent on 1 December 1923.
In 1998 the Nevele described above had a population of 2,857 and on 1 January 2017 there were 1,438 women and 1,406 men which makes a total population of 2,844 souls.
In 1971 the towns of Hansbeke, Landegem, Merendree, Vosselare, Poesele and Nevele itself were merged into one administrative unit called Nevele. Greater Nevele, as we call this new entity here, has a surface area of 5,189 ha. (12,822 acres) and one burgomaster for a population of 11,872 on 1 January 2011. Was there a plebiscite to find out how people felt about this merger ? What did it change ? The number of rules and regulations increases steadily and more and more people are being governed by fewer, with or without that merger. Did it bring government any closer to the people ? Perhaps now their old town hall is open only one day a week. Economies of scale ! Is it cheaper now ? Any other silly questions anyone ?
Since February 2010 there is a new museum in Nevele: take a look at the superb Cooper Museum.
Here you may find a few pictures
taken inside Nevele's church.


More pictures
Our Meetjesland — Table of Contents — Find something in this Meetjesland website


MijnPlatteLand.com

Most recent update : 05-03-2023
Copyright Notice (c) 2023