The Meetjesland in the north of East-Flanders, Belgium
Kluizen
This was a sandy and wild region of heath situated in the furthest southern corner of the Assenede Corporation and separated from the St. Bavo domain in Evergem by the "Lange Beek", Long River.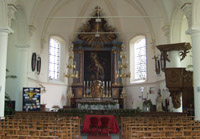 Between 1115 and 1119 Boudewijn (Baldwin) VII, the count of Flanders, donated the region to the Abbey of Ename. In exchange the abbey had to build a church there and a "kluis", hermitage for the monks. The monks took charge of the development of the 12 colonists' farms later known as the reclamation estate of the Twelve Farms ("De Twaalf Hofsteden"). Kluizen was started as a real reclamation town.
In 1122 the Bishop of Utrecht (now in the Netherlands) gave his permission to build a chapel here and in 1120 the abbey built the Notre Dame Chapel along the "Langebeke" (Long River). And the town center grew around this chapel.
The parish church of Notre Dame Birth is a classicistic three nave church. In 1722 the choir was enlarged and in 1768 the west tower was rebuilt. In the middle of the 19th Century Mr. Minard, architect, renovated the church and completely renewed its interior. In 2000 this interior was beautifully restored and it is a real joy to behold.
There is a remarkable painting in the church: "The Assumption of Mary" by Nikolaas de Riemaecker.
In 1965 Kluizen was merged with Ertvelde. And in 1977 Ertvelde itself became a part of Evergem together with Belzele, Doornzele, Kerkbrugge-Langerbrugge, Rieme, Sleidinge and Wippelgem.
There are two huge water reservoirs in Kluizen. Exploitation of the first reservoir started in 1974. The purification plant of the surface water had a capacity of 20,000 cubic meters of drinking water per day. In 1996 the second reservoir also came on stream and the production of drinking water was doubled. The two reservoirs can hold up to 11.4 million cubic meters of water. Surface water is available in huge quantities but more expensive to purify than groundwater.

Source for most of the above: "Streekgids Meetjesland", pp. 75-78 by Ernest Van Herck.



More pictures
Our Meetjesland — Table of Contents — Find something in this Meetjesland website


MijnPlatteLand.com

Most recent update : 22-04-2021
Copyright Notice (c) 2023