The Meetjesland in the north of East-Flanders, Belgium
St.-Margriete
Together with St Laureins and St Jan-in-Eremo, St Margriete was in the 12th Century one of the peat villages of what is now our Meetjesland. That means something similar to browncoal was won here. And when none of it was left the region was abandoned because nothing of value would grow here.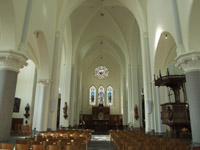 The whole of St.-Margriete lies below sea level. The New Haantjesgat Polder was the last of the town to be dammed in in 1750. It is said that the first church of St Margriete was built around 1244. That puts a town on the map. But that town with its church and much land also in neighbouring towns were swept away in the floods of 1375-1376.
A second church was built near the "Zoutput" (Saltpit) in the Kruispolder (Cross Polder), just south of what is now the Belgian-Dutch border. The storm and flood of 1583 damaged it very badly. After many difficult years the Abbey of St Bavo of Ghent (to whom the farmers paid their rent and taxes) agreed to build a new church where now the cemetery still is and the parish priest from Waterland-Oudeman came for the services. It was not till 1750 that St.-Margriete received its own parish priest.
This postcard was mailed in 1929 at Heist-op-den-Berg by someone from St.-Margriete to... someone in St.-Margriete.

This is the town's fifth church built in 1877 a few dozen yards from the previous one.
The usual churchyard surrounded that previous church which was completed in 1673 and demolished in 1883.
In the far corner of the cemetery, surrounded by centuries old lime trees there is the penance chapel. It was built after a sacrilegious theft in the night of 15-16 June 1727. The holy hosts were unceremoniously dumped in the ditch where now the chapel stands. For many years pilgrims came here to be spared of or healed from whooping cough and until recently every year on Pentecost there was a procession of penitence.
The neogothic church with its steep spire that we see now from far and wide was built in 1877. The master builder was a Van Vaerenberg who worked to plans drawn up by architect De Perre-Montigny. It cost 94,300 franks. (Now of course you wouldn't even have the spire for 100,000 euros. When the Belgian franc was abolished the exchange rate was approximately 40 BF for 1 euro. That's inflation for you. And let's not forget that progress means a better product at the same price or the same product at a better price than before. To cut a long story short inflation is just another form of grand larceny. But they have fancy names for it because it's the politicians doing the thieving.)
On 2 October 1921 there was a great inaugural parade for the new and vey young burgomaster: Eugeen Van Vooren was then 28 years old. We are most grateful to Edith and Monique Van Vooren, his daughters, who let us have a few pictures of this grand occasion. You can admire these old photographs with a click here. Eugeen was born on 8 October 1893. He was a veteran of WW I. He was burgomaster for many many years. He was liked and respected by one and all. He passed away on 18 February 1977.
Gilbert De Bock was the last shepherd of St.-Margriete. People were used to him strolling quietly with his sheep and dogs. He had a flock of about 300 sheep. When he died, far too young, in 1974 it was the end of another era.
St.-Margriete was in the news once or twice around about 1975 when two unmarried brothers, both masons, after refusing to pay their taxes, eventually found themselves for quite a few months with their last belongings on their last remaining field in a hut made from scaffolding and planks, of course without heating or sanitation.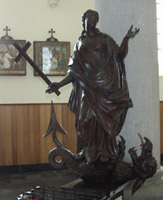 When someone approached their forlorn abode in that field they fled but they were eventually captured penniless to be kept in an old people's home, at the expense of none other than the tax payers of course.
But long before it came to that they used to ride to work on their bycicles and one day someone overheard a snatch of a discussion as they rode past. One said to the other: "You will see, there will come a day when we have nothing left."
St.-Margriete was also in the news when in June 1979 next to the farm of Petrus De Keyzer on a meadow Etienne Van Vooren and his team of archaeologists uncovered part of the remains of the first church and graveyard of a long forgotten town. They say it was called Roeselare and was first mentioned in 1243. That pasture has long since disappeared and now you can see modern villas from there past the property of Eugène Van Vooren all the way to where the cabinet maker had his showroom.
St-Margriete's windmill stood on the farm of Petrus De Keyzer. Now all that's left of that windmill is a neglected stump. And for those of you who read Dutch here is something about the De Keyzer family.
In the church you can admire a few paintings and a remarkable statue of Saint Margareth trampling on a dragon. It was made by Pieter Van Walleghem from Bruges, it's oak and it dates from 1750.
St. Margriete borders to the west and north on Zeeland which is part of the Netherlands. It measures 1,049 hectares (2,591 acres). On 1/1/2004 it had a population of 645 and according to the official website of Greater St.-Laureins (to which willy-nilly St-Margriete belongs since 1971) and this had gone up to 648 exactly 10 years later.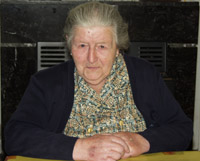 And if you think nothing ever happens here, think again: on 1 December 2004 St.-Margriete feted a centenarian, Celina Haers. Believe it or not, she still lived in the house where she was born and where she'd lived most of her life, she was in good health and in good spirit. She knew full well what was going on in this world, she remembered ever so much of the past and she liked to talk about it all in the beautiful dialect of her town. We wished her all the very best for many more years to come but she eventually passed away on 27 June 2008.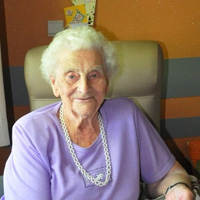 And on 14/6/2014 Zulma Van den Navoij was 100 years young. We went to see her on 23 July 2014 and found her very well and very happy to be among the living. She was the wife of Jozef Veesaert (St. Margriete 12/5/1915 - Eeklo 27/11/1989). Zulma and Jozef ran a pub in the center of town where the men went after Sunday Mass to talk over the events of the week and to play a game of cards. We had an old picture for her; she didn't even know there was a wedding photo of Margriet De Vent and Aimé Veesaert, Jozef's brother. She said she was very happy with it and we can find no reason not to believe her. Congratulations to her and many happy returns of the day !
Our source for much of the above is the excellent "Streekgids Meetjesland", pp. 25-26 by Antoine Blondeel and Walter Notteboom.
More recent pictures from St.-Margriete
More older pictures from St.-Margriete
This 1727 bas-relief is crumbling away
and not so slowly either.
Is no one going to do anything about it ?
Read more on this here.
Here we have 6 black and white pictures
made by Mr. Romano Tondat
between 1962 and 1975.


More pictures
Our Meetjesland — Table of Contents — Find something in this Meetjesland website


MijnPlatteLand.com

Most recent update : 22-04-2021
Copyright Notice (c) 2023