The Meetjesland in the north of East-Flanders, Belgium
Waterland-Oudeman
This town was first founded as a parish in 1229 by the St. Peters Abbey of Ghent. It was then known as "Sint-Niclaes-ter-Varent". "Ter-Varent" comes from "in averno" which means "in hell". In other words this was no doubt a very inhospitable place.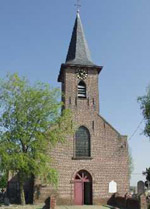 It was one of the 17 villages that disappeared in the floods of 1375-76 at the same time as the famous priory of Elmare also founded in the 13th Century by the same abbey. It remains a mystery to this day where exactly Elmare stood. Perhaps it was somewhere near the actual "Brandkreek" (Burning Creek) Dyke.
And for almost two hundred years nothing changed and the sea covered the land where Sint-Niclaes once stood. There were a few attempts to reclaim some of the land but the work was lost in the floods of 1404 and 1477.
Hiëronymus Lauwerijn and his children dammed in quite a few polders in the region of St.Niclaes and Watervliet. For instance in 1526 the Oudemans Polder was created by Marcus Lauwerijn. ("Oudeman" means Old Man.) Waterland became known as Waterland-Oudeman thanks to a certain Michiel Oudeman who lived on a farm near the sea dyke in the Oudemans Polder.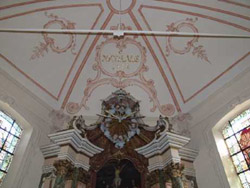 No one knows where the first St Nicolas Church stood. In 1553 the St. Peters Abbey of Ghent began work on the second St. Nicolas Church in the Oudemans Polder. During the Religious troubles this church was very badly damaged by the Protestants—they were called "Geuzen", which meant beggars. It was repaired in 1657 and taken over by the Protestants. The church we now know was built on land that belonged to the Carthusian monks of Bruges. It was restaured from 1994 to 1997.
A terrible thing happened on the farm of Petrus Van Acker on 14 October 1944 during one of the many awful battles to free our country from the Nazi oppression: early in the morning a single shell explosion killed 22 civilians, mostly refugees from Watervliet. Here is the funeral card of the members of the Van Acker family killed on this dreadful Autumn day in 1944, less than a week before the whole region was liberated by the Canadian army.
Since 1971 Waterland-Oudeman is administratively a part of Greater St.-Laureins together with St.-Laureins itself, St.-Margriete, St-Jan-in-Eremo, Bentille and Watervliet.
Waterland-Oudeman covers 901 hectares (2,225 acres). On 1/1/2004 there were 418 inhabitants and according to the official website of Greater St.-Laureins this had gone down by 10 "units" exactly a year later.
| | |
| --- | --- |
| | Waterland-Oudeman's town hall. |
Our sources for most of the above is the excellent "Streekgids Meetjesland", p. 24. See also: "Our sources".
The events of 14 October 1944 are related at length in a book called "Brandende Polders" (Burning Polders) by Jozef De Paepe, Ivan De Wilde and Marc Van Hulle, published in 1994 by Uitgeverij Taptoe (uitgeverij = publisher).
And now we wish to honor Dr. Edmond Tieleman. He was born here in Waterland-Oudeman in 1902. He died in Mariakerke near Ghent on 3 October 1951 after a long illness. He was one of the founders and first president of the Meetjesland Regional History Association which started officially on 6 May 1938 as a workgroup. This association publishes since 1949 "Appeltjes van het Meetjesland", a very well researched and very popular periodical.
Allow me to recommend an old inn: next time you go to Waterland-Oudeman go have a drink or a bite to eat at "De Roste Muis" (The Red Mouse). The oldest part still standing is at least 250 years young... and going strong.


More pictures
Our Meetjesland — Table of Contents — Find something in this Meetjesland website


MijnPlatteLand.com

Most recent update : 22-04-2021
Copyright Notice (c) 2023