The Meetjesland in the north of East-Flanders, Belgium
Sint-Jan-in-Eremo
Here is another small Meetjesland town where nothing ever happens. In the 12th Century it was one of the peat villages. But after the peat was extracted the land lay fallow and was called "woestine", desert. We find the name as such for the first time in an old deed of 1307 which mentions the "parrochia Sancti Joannes in Eremo", the parish of Saint John in the Desert. It already had a church then. But this church was destroyed in one of the floods of the end of 14th or the beginning of the 15th Century.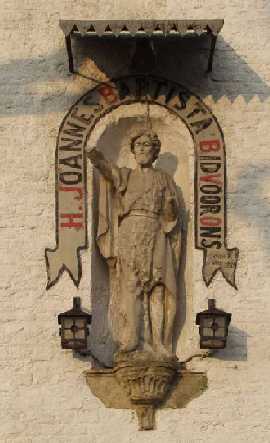 And before 1447 a second church was built a little further to the north on the border between the St. John's Polder and the Oostpolder (East Polder). But due to storms and inundations this church was abandoned in the 16th Century when the inhabitants sought refuge on the other side of the Graafjansdijk (Duke John's Dyke).
When the General Free Polder was created in 1652 only the choir of the old church was restaured. The rest was demolished. The picturesque little chapel that is still there now dates from 1682. That same year it suffered some storm and flood damage which was soon repaired.
There are a few excellent restaurants whose speciality is eels which used to live in the region in great numbers. Some of the older people used to tell tales (or were these tall tales?) about their poaching and smuggling adventures. With the integration of the Benelux countries and the unification of Europe, customs-officers have disappeared and prices on both sides of the border are very similar.
The picturesque
chapel of
St-Jan-in-Eremo
dates from 1682.

For more
pictures of
St-Jan click here.
The land is now better irrigated, many hedges and ditches have disappeared and there is the undoubtedly exaggerated fear of polluted waters and poisoned wild life. People have their television and are better off. So many reasons why illegal fishing, stalking or snaring game and dragging calves across the border in the middle of the night are pastimes of the past.
Sint-Jan has been part of Bentille for a long time... Or is it the other way around? After all, Sanderus wrote on his 1641 map "Bentille Cappelle". Both St.-Jan and Bentille together are 1,260 hectares (3,112 acres). In 1977 they were merged with Watervliet, St. Margriete, Waterland-Oudeman and St.-Laureins into what I call here Greater St.-Laureins. On 1/1/2004 the population of both towns—St.-Jan and Bentille, together was 1,048. Exactly one year later it stood at 1,039 according to the official Greater St.-Laureins website but in 2010 it had gone down to 996.


More pictures
Our Meetjesland — Table of Contents — Find something in this Meetjesland website


MijnPlatteLand.com

Most recent update : 22-04-2021
Copyright Notice (c) 2023