The Meetjesland in the north of East-Flanders, Belgium
Donk, a Meetjesland town
The word "donk" means a "sandy landridge in a swamp". The hamlet of Donk was born on the place where the Antwerp highway crossed the road to Brootsende and Moerkerke. There were only about 10 farms here in the 17th Century.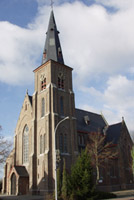 In 1857 Donk was recognized as a separate parish. But the inhabitants had to wait for a church of their own until 1883 when the current neogothic Saint-Joseph Church was eventually consecrated. It has a very sober interior but also a very beautiful organ.
Zoetendale is a district of Donk. It means "Sweet Valley" or "Valley of Sweetness". It is also called "the Four Farms" and it is situated before the Leestjens bridge east of the "Knokkeweg" (Knokke Road—Knokke is a seaside town just outside our Meetjesland.) The farms were built on the foundations of the Zoetendale Abbey which was dissolved in 1584. They found its last abbot drowned in the Damme Canal. The property then came into the hands of the Jesuit College of Bruges.
Donk is a rural parish with lovely roads leading from the town center to Sijsele, Moerkerke and Damme. In the "Brezendedreef", a drive lined with magnificent oak trees one can see what remains of the "Brootsende Farm". There was a castle here until the end of the 16th Century.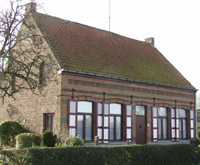 Also the "Groot St.-Jansgoed" (St.-John's Great Farm) (owned by St.John's of Bruges since the 13th Century) and the "Klein St. Jansgoed" (St.-John's Little Farm), the "Lindekenshof" (Lime Tree Farm) and the Schipstaele Farm are important exploitations.
The source of the above is the excellent "Streekgids Meetjesland", 1998, pp. 46-47. See also: Our Sources.

In Donk you can go see the
Smoefel River Farm Agrarian Museum
. Highly recommended !


More pictures
Our Meetjesland — Table of Contents — Find something in this Meetjesland website


MijnPlatteLand.com

Most recent update : 22-04-2021
Copyright Notice (c) 2023