The Meetjesland in the north of East-Flanders, Belgium
Wachtebeke
It is generally accepted that Willibrord (658-739), or definitely his followers, first preached the faith in the Four Corporations. In 1108 there were 3 parishes in the Four Corporations: Assenede, Boekhoute and Axel. Hulst only had a chapel. These parish churches were dedicated to the Holy Cross. Wachtebeke was originally part of Assenede.
It is not known exactly when the church of Wachtebeke was founded but it was undoubtedly after 1199. Indeed no one spoke of a church in Wachtebeke when the bishop of Utrecht, Dirk II in 1199 gave the Saint Peters Abbey of Ghent permission to build a chapel on a piece of marsh land donated by the Count of Flanders and situated between Kalve and Wulfschoot. The chapel can be seen on the map of Sanderus. It had all the privileges of a parish church. The church of Wachtebeke was no doubt built shortly after that.
The church on the 1550 Horenbout map has a single nave and a transept on the left side only. There was an octogonal spire in the middle. About 30 years later (1580), also on a Horenbout map, we see a church with three naves.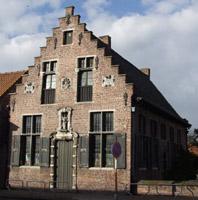 On 12 May 1559 the new bishoprics of the Netherlands were revealed to the faithful. Wachtebeke was part of the bishopric of Ghent, deanery Hulst (1596-1642).
When in 1611 Bishop C. Maes came to visit he found the church of Wachtebeke in fairly good condition in spite of the plundering and the alternating occupation by troops. On another visit, in 1636, this time by Bishop Ant. Triest the church was considered in good condition; it even had a new floor.
And a mere ten years later in 1646 the church now under the deanery of Evergem was in a dismal state. The roof leaked and because of this the walls and ceiling were in a very bad way. In 1686 they implored the ten wealthiest citizens of Wachtebeke for a financial contribution to help repair the church building.
Our sources for most of the above: "Geschiedenis van de Parochie Wachtebeke-Overslag en het Kerkgebouw" (History of the Wachtebeke-Overslag Parish and the Church building) by the Heemkundige Kring "Oud-Wachtebeke", the "Olde-Wachtebeke" Regional Circle, 1996.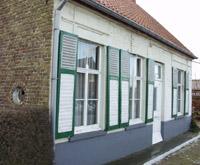 In 1662-63 a doomsday book or landbook "ghenaempt evenynckbouck" was drawn up. From the first of these two fat volumes we learn that in 1662 the Wachtebeke parish was divided into 64 sections* (in Dutch "beloop", plural "belopen"). Some of these were further divided into only a few parcels or plots while others contained hundreds of these plots. This landbook (its second volume has disappeared) was supplemented by a book of maps that is kept in the Wachtebeke town archives. Unfortunately from this last book seven maps are missing. The drafting of such a landbook was definitely not a simple affair. Each parcel has its id number and a description mentioning its owner, its tenant, its borders and whether it was a farm, field, meadow or woods; there also was information for tax purposes, the taxes actually levied on it and its size.
This and much more we gratefully learn from Mr Werner De Coninck's 1989 Wachtebeke Yearbook published by the "Olde Wachtebeke" Regional Circle with marvelous drawings from the hand of Mr. Gothard Martens.
On 21/12/1841 a new religious congregation is founded in Wachtebeke by village priest Georges Van Rossen: the Sisters of Saint Vincentius a Paulo.
Wachtebeke is home to the Puyenbroeck domain. What's in a name ? Well, a "broeck" is a swamp. And "puyen" ? Who knows ? In some local Meetjesland dialects a "puy" (plural "puyen") is a frog.
This 1260 acre domain belonging to the East-Flanders province is freely open to the public from 9 in the morning till dusk. And it has more than a little for everyone. There is a lake in the form of a cloverhead. There is a French and an English garden with plenty of flower power, 23 acres in all. There is a childrens' playground. There is everything you want for many sports including a swimming pool, tennis courts and martial arts facilities.
There is also a conference center, two restaurants and a cafetaria. There is a 55 acre animal park. There is also a mill center with a remarkable collection of exhibits to explain all about the windmills of the province. There is a camping site with room for more than 400 caravans, mobile homes and the like. There is much more but it's up to you to discover it.
Wachtebeke lies east of the great Ghent-Terneuzen Canal and west of Moerbeke which is in the Waasland. North of Wachtebeke lies the Overslag with the Belgian-Dutch border literally running through the town. According to its own official website the size of Wachtebeke is 34.81 km2 (13.44 square miles or almost 8602 acres) and on 1 July 2004 it had a population of 6,823 (3,443 women and 3,380 men).
You go and look wherever you want: you'll always find more women than men. Where's the justice in that ? Equality, my foot ! Sorry, I was only joking. Really, I swear ! I was only joking !
Mr. Pierre de Meyere went to live in Wachtebeke. He started collecting old farm tools and other other old machinery and soon he got a museum going. He also wrote a little brochure about the old tools our ancestors made. Here is a copy of his brochure (in Dutch).

On 25 April 2011 Mr Urbaan van de Voorde organised a tandem drive in Wachtebeke.
Here we have some pictures of this great event.
———————
* For the benefit of M. A. Vosper, formerly of Stratford, London, England, I repeat here: the word section is more often than not translated in Dutch as "sectie"; pronounced sexy. Now, now, enough about that here on this website !


More pictures
Our Meetjesland — Table of Contents — Find something in this Meetjesland website


MijnPlatteLand.com

Most recent update : 22-04-2021
Copyright Notice (c) 2023