The Meetjesland in the north of East-Flanders, Belgium
Bellem
The green green town of Bellem was founded fairly recently: in 1242 the bishop of Doornik (Tournai), Walter van Marvis, on his grand tour in the Bulskampveld ("veld" = field) to determine with great precision the borders of the then existing parishes separated the hamlets of Assert and Meneveld from their mother parish Ursel to create a new parish which received the biblical name of Bethlehem. This was later shortened to Bellem.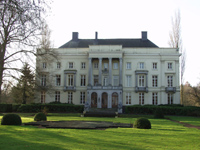 In the 13th Century the northern part of Bellem was brought into production by Seigneur van de Woestijne ("woestijn" was wasteland, now the word means desert) and transformed into fields. The southern part was mostly heathland with a lot of ponds and the odd field here and there such as around the Kromeke hamlet. In 1640 there were in Bellem 641 ha (hectare) (1583 acres) of sowing-land, 31 ha (77 acres) of pastures, 108 ha (267 acres) of woodland and 188 ha (267 acres) of heath and ponds. Especially in the 18th Century many of the ponds were drained and many new woods were planted.
With the digging of the Bruges Canal in the bed of the Durme river the parish of Bellem was cut in two. And this had its consequences for instance in the Eighty Years' War and subsequent conflicts until 1713. On the south side of the canal a chain of fortresses was built and Groot Fort St. Filips (Great St. Philips Fortress) in Bellem was one of the main fortresses. All this to protect the country against the raids of the Dutch.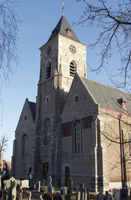 After 1648 the enemy came from the south and the canal served as a fortified barrier against the incursions by the French. And now the southern side of the canal then the northern side were forced to contribute the enormous amounts of money and loot the defense efforts required to remain free from the looting and pillage of the opposing side.
The oldest parts of the current Notre Dame Church date from the 16th Century. Jan (John) Baptist De Smedt, Bellem's parish priest from 4 September 1860 on, considered the church far too small. He insisted on this for 12 long years and on 18 March 1872 work began to demolish the church up to the choir. And then two new bays, two side-absisses and a new sanctuary were built in the neo-gothic style.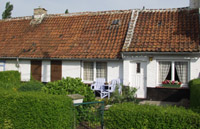 On 10 September 1944 the church burned out. The restauration took place between 2 May and 10 September 1950 and concrete replaced the wooden barrel-vaults.
Bellem with its 1,208 ha (2,984 acres) is willy nilly since 1 January 1977 administratively a part of Aalter together with Lotenhulle, St.-Maria-Aalter and Poeke. According to the official website of Aalter on 1 January 2004 there were in Bellem 2,262 inhabitants.
The source for most of the above is the excellent «Streekgids Meetjesland», 1998, pp. 113-115 by Luc Stockman. See also: Our Sources.
| | |
| --- | --- |
| | Here you may find some pictures made in Bellem between 1962 and 1975 by Mr. Romano Tondat. |


More pictures
Our Meetjesland — Table of Contents — Find something in this Meetjesland website


MijnPlatteLand.com

Most recent update : 22-04-2021
Copyright Notice (c) 2023