The Meetjesland in the north of East-Flanders, Belgium
Belzele
Long ago Belzele was part of the Vinderhoute-Merendree Seigneury. Today it is a quiet village, since 1977 administratively a part of Greater Evergem.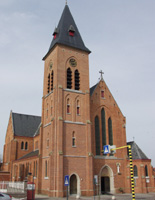 The Lieve is a canal that was built in the 13th Century to give Ghent access to the Northsea via the Zwin. But the area around Damme soon silted up and sea going ships had to unload their cargo further and further away from Bruges. Not much later Sluys also lost her fight against the sand. All this meant the Lieve Canal was useless. This was even more definitely the case when the actual Canal between Ghent, Bruges and Ostend was built. Now there still exists a bit of the Lieve Canal between Belzele and the Schipdonk Canal but it looks more like a ditch or at most a little river than a canal. Another bit of it still exists in Ghent itself.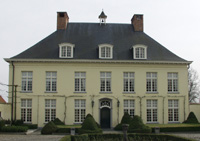 In the center of Belzele stands the neogothic parish church. This three nave church called the Sacred Heart Church was built in 1902 - 1903. The spire was added 10 years later. The church furniture is also neogothic: the altars date from 1903, the marble baptismal font from 1907.
In 1977 Belzele became an administrative part of Evergem together with Doornzele, Ertvelde, Kerkbrugge-Langerbrugge, Rieme, Sleidinge and Wippelgem.
I'm afraid I know nothing further about the history of Belzele. If you can help me with information on the history of this town, I will be most grateful.

On 10 July 2005 we spent a most enjoyable Sunday at Belzele's 8th Day of the Horses. In the morning there was the great Cart Horse Parade. In the afternoon there were games and things, there was the great De Brabander Horse show and shows i.a. by the Gipsy Horses and stunts on horses and barrel races.



More pictures
Our Meetjesland — Table of Contents — Find something in this Meetjesland website


MijnPlatteLand.com

Most recent update : 22-04-2021
Copyright Notice (c) 2023