The Meetjesland in the north of East-Flanders, Belgium
Ertvelde's Beer Museum ("Biermuseum")
This is really a hobby that almost got out of hand. The Beer Museum in Ertvelde is a real must for real beer lovers. Here you can admire a vast collection of beer glasses from around the world, more than 7,000 of them and there are more than 5,000 bottles full of beer or bottles carefully emptied of their precious content. There are more than 1200 Belgian beers with the glasses in which they are or were served.
Then there are the beer cards and enameled commercial plates such as the two plates of Eeklo's much regretted Krüger Brewery in the picture below.
And of course this is also a pub where you can sample a beer or two. In fact Remi serves more than 30 beers such as Delirium Tremens, La Chouffe, Oerbier, Babar, Dikkenek and several Trappists. (If Dutch is doubledutch for you, a "Dikkenek" is a pretentious chap. Only used for certain males of our species. Dik (thick) is pronounced like dick and nek (neck) like neck.) But there is also the "Beremietje", a beer brewed exclusively for the Beer Museum by the Lefevre Brewery of Quenast, a town about 25 miles south of Brussels. This is a 5.4% alcohol beer with a cool, spicy taste. A real must for real beer lovers.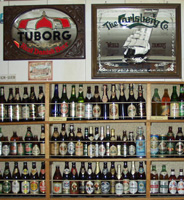 Many like to nibble on a piece of cheese with their beer. Here you might want to try a hop cheese. That's right a cheese with hops as one of its ingredients, exclusively made for the Beer Museum. We had our doubts but... In for a penny, in for a pound. We tried it and we liked it a lot.
The Beer Museum is the creation of Mr. Remi Dhaene. He also has 30,000 cigar bands and God knows how many matchbox labels. They don't make collectors like him no more. You can find him and his Beer Museum in the Kuipstraat in Ertvelde.

Opening hours ? We're sorry to say the Beer Museum is no more, or rather its entire contents went to Bruges. Remi started his collection in the 1980's. In 2014 he lost his wife Berenice. One of the Flemish newspapers says that in 2015 his museum received its 150,000th visitor. We wonder: how did they count ? What about the regulars for instance ? In any case, then Remi's health problems started and he decided reluctantly to close at the end of September 2016. He was then 75 years young (° 12/8/1941).
So why not go see Remi's collection and much more in the center of the magnificent city of Bruges in the Bruges Beer Experience Museum ?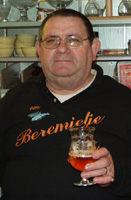 More pictures from the Beer Museum
All about Ertvelde


More pictures
Our Meetjesland — Table of Contents — Find something in this Meetjesland website


MijnPlatteLand.com

Most recent update : 22-04-2021
Copyright Notice (c) 2023