The Meetjesland in the north of East-Flanders, Belgium
The dikes of our Meetjesland
Dikes were built to protect the land behind them from the sea. In those days, 700 and more years ago, long before today's mighty earth moving machines, the construction of a dike was a huge and back breaking enterprise.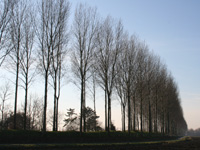 What was accomplished here was considered one of the wonders of the world. Even Dante Alighieri, the great poet who lived from 1265 to 1321 in faraway Italy, thought them worthy of a word of praise in his famous work, the Divina Commedia, even though there is no evidence he ever left his country.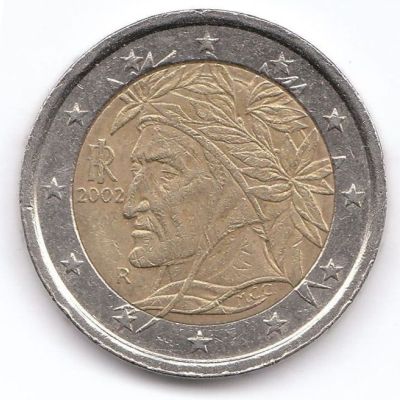 Dante honored on the Italian 2 euro coin
Here is the verse from Canto 15 of Dante's Inferno:
Quali Fiamminghi tra Guizzante e Bruggia,
temendo 'l fiotto che 'nver' lor s'avventa;
fanno lo schermo perché 'l mar si fuggia;
And here follows Henry Wadsworth Longfellow's translation:
Even as the Flemings, 'twixt Cadsand and Bruges,
Fearing the flood that tow'rds them hurls itself,
Their bulwarks build to put the sea to flight;
For many years these dikes were the wealth and the misery of our ancestors: the land behind them was very fertile but when the dikes failed or were sabotaged everything was once again drowned in salty sea water.
Now they are the silent witnesses of the courage and perseverence of the people who built and maintained them.


More pictures
Our Meetjesland — Table of Contents — Find something in this Meetjesland website


MijnPlatteLand.com

Most recent update : 22-04-2021
Copyright Notice (c) 2023