The Meetjesland in the north of East-Flanders, Belgium
Gerard's Mill
Wippelgem has a beautiful windmill. It's called Gerard's Mill. Its predecessor was a wooden postmill built in 1645. There exists a document claiming that Antonius Triest, the bishop of Ghent, gave his permission for the construction of that mill on 23 January 1646. Would they have dared to begin work on the building site even before the building permit had come through? In any case permission to build a windmill in what was then Evergem and what then belonged to the St. Baafs Abbey was granted.
We know Lieven Van Vooren became the new miller and owner in 1676. In 1699 the owner was Mattheus Van Vooren. He added a horse mill. Later on he received help from his son Pieter. And Pieter's widow sold the mill on 23 February 1756 to Livinus Neyt. Quite a few descendents of Livinus would become millers in the region over the years. For instance the last professional miller of Ertvelde's Stone Mill was one Cyriel Neyt.
In 1787 the post mill burned down and was rebuilt. It was then owned and operated by many generations of the Neyt family. And just in case you are wondering where its name comes from one of the Neyt millers was called Gerard.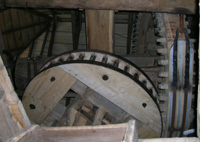 It was this Gerard who in 1846 replaced the post mill with the actual stone towermill. In 1870 a steam engine was installed in the mill. When Gerard's grandson, Jacob-Frans Neyt died in 1919 his 22 year-old son Kamiel became the last miller of the Neyt family to earn a living from Gerard's Mill. In 1940 it fell silent. Kamiel died on 2 December 1965 and his heirs sold the mill to Evergem town.
René Claeys,
one of Gerard's Mill's
first volunteer millers
Evergem decided to fete its first 1000 years in 1966 and the mill was restored for the occasion but it was not made operational. That had to wait another 20 years and was accomplished from 1984 to 1986. And now Antoine Saverwijns became its new miller. He was a descendant of the millers family of Evergem's Kuitenberg Mill.
In 1994 the not for profit Gerard's Mill Association was founded and its volunteers now took over the job of keeping the mill alive. In 2002 the cap was taken down and millwright Johan De Punt from Erpe-Mere successfully carried out another restoration job. Successfully I dare say because since then the powerful machine runs very smoothly in even the lightest of breezes. And it is a great pleasure to see.
Miller Rik De Baerdemaeker,
one of the volunteers
who keep Gerard's Mill in shipshape.
Congratulations to them !
They give our past a future.
We all should support their efforts.
Gerard's Mill is a grain mill. It has 3 pairs of millstones. Two of them are in good working order. How does it work? Grain is poured in the eye of the runner stone. That's the hole in the center of the top stone which is turned by the mill. The grain is ground between the runner stone and the bedstone and of course the result is a mixture of meal and flour. And what some of you may ask is the difference? Meal is gritty and coarser than flour which is finer and more powdery.
Sure, modern machines with their metal rollers produce a more uniform kind of flour. But then of course in these modern times with white bread, American bordeaux and photogenic politicians absolutely everything is more perfect than in the past.
More pictures of Gerard's Mill
About the windmills of our Meetjesland
Our list of the windmills of our Meetjesland
About Wippelgem


More pictures
Our Meetjesland — Table of Contents — Find something in this Meetjesland website


MijnPlatteLand.com

Most recent update : 22-04-2021
Copyright Notice (c) 2023