The Meetjesland in the north of East-Flanders, Belgium
"Call of Duty - United Soldiers",
a WW II Re-enactment Group
On 23 April 2006 we singlehandedly stopped a battle hardened convoy of World War II military vehicles. They were undoubtedly as convinced as we that our whole Meetjesland had been cleared of all enemy forces so they allowed themselves a short stop in their advance toward the center of Sleidinge where a fun fair was in full swing.
We are not sure whether Sleidinge was re-enacting the 1945 Liberation celebrations, some other liberation or just commemorating a saint or feting the end of some terrible plague. Anyhow, absolutely convinced we couldn't possibly be intent on spying for the enemy these fighting men allowed us to make some photographs.
Later on we caught up with them again, still in Sleidinge, in front of a private museum of military paraphernalia. Here they had set up a temporary camp, a field hospital and a mess. There were boxes of ammunition everywhere. Or were these ammunition boxes? I couldn't tell but it looked to me like these men had come to see the job through to the end. Right now however, they were partaking in some liquid refreshments, no doubt some brew or concoction made by local people.
A spokesman for the group of Canadian and US soldiers told me in an impeccable Flemish with the unmistakable Meetjesland flavor they were a re-enactment group based at the Canada War Museum in Adegem. They call themselves "Call of Duty - United Soldiers".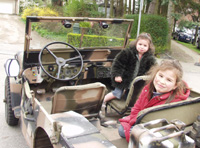 They were well equiped, they looked clean, most of them, well fed and full of enthusiasm. Believe it or not some even had politically incorrect cigarettes with as far as we could make out, dire warnings on the packets. Smoking back then in the1940s was still allowed and cheap too.
The museum when we were eventually allowed in had quite a collection of war materiel especially military uniforms. But we were not allowed to take pictures, or anything else for that matter. We were sure there were secret agents, in civvies of course, carefully mixed in with the other visitors, to keep an eye on things. One can sense that sort of thing. It's like you feel the presence of someone when you step into an unlit room.
All in all quite an eventful day !


More pictures
Our Meetjesland — Table of Contents — Find something in this Meetjesland website


MijnPlatteLand.com

Most recent update : 22-04-2021
Copyright Notice (c) 2023