The Meetjesland in the north of East-Flanders, Belgium
Maldegem's Steam Center
If you have a couple of hours to spare in Maldegem you really must go see the Steam Center. Just go to the railway station.
The Steam Center has its own excellent website and much of it is in English. So instead of repeating the things they tell you there I will give you my impressions and show you here some of the pictures I took during my very enjoyable white glove inspection tour on 25 September 2005.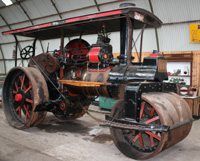 Clearly I can't resist a short history lesson: on 26 February 1959 for the last time a passenger train left Maldegem station for Bruges. It was shortly after 9.30 in the evening. Everyone knew that was the end of that. Indeed pretty soon after this non-event the railway tracks between Maldegem and Bruges were ripped up. Until 26 April 1988 freight trains ran between Maldegem and Ghent but no doubt more out of habit than conviction. A slow passenger train service between Eeklo and Ghent is still maintained. But of course (for those not too familiar with the local geography) that leaves Maldegem out in the cold because it is not between Ghent and Eeklo.
And then in 1989 a group of volunteer railway enthusiasts reopened the Eeklo-Maldegem line for steam trains. Maldegem's old train station was bought from the NMBS (Belgium's national railway company) and restored. Part of it is now a very popular pub.
| | |
| --- | --- |
| | Mr. Kevin Hoggett and his son Chris. |
I was allowed to climb up in the cab of TKP 6281. This is a huge steam engine. It was on active duty in its native Poland until 1996. I was amazed at the size of the fire box, a veritable furnace. I had a chat with Mr. Chris Hoggett. His dad Kevin worked for British Rail and probably didn't plan to come and live in Belgium until he met a lass from Maldegem.
I watched a family from Korea. There were the 2 charming children with their parents in tow. Mum and dad, each armed with what looked like the latest digital camera, tried to photograph their offspring next to that gigantic locomotive of Kevin and Chris. But the kids were too excited to stand still for long enough.
More pictures from our first visit to the Steam Center
About Maldegem
On 13 August 2006 we couldn't resist another peek inside the Steam Center and we were definitely not disappointed.
Here you find some of our pictures of that memorable afternoon cut short unfortunately by a downpour that would have been more welcome a month earlier.


More pictures
Our Meetjesland — Table of Contents — Find something in this Meetjesland website


MijnPlatteLand.com

Most recent update : 09-05-2022
Copyright Notice (c) 2023