The Meetjesland in the north of East-Flanders, Belgium
Watering places
Once upon a time watering pools were magical places. I'm talking about pools of water for the farm animals. There were beetles in the water and all sorts of other insects. Some walked on the water. In the Summer the pool might dry up. All sorts of plants might appear there that you saw nowhere else. When the pool was dry, water had to be pumped up by hand. That was a boring daily chore.
During the Winter months one could skate on the pool. But on many farms every morning the groom had to hack a hole in the ice to give the horses something to drink.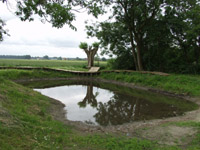 Sometime after WW II new pumps were installed. The animals could operate these themselves: self service on the farm. And what happened next? The animals taught each other. And efficiency reigned supreme because many of the old watering places could now be used as landfills or reclaimed like the polders that surround them. But long before things got really this bad every farm had at least one watering place.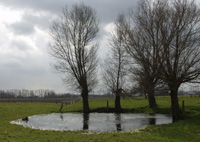 Now there are so many farms without animals: no horses, no cows or calves, no chickens, no ducks, no turkeys, not even a rabbit. Or perhaps just a few lonely creatures that don't really feel at home in their modern sanitized surroundings. Perhaps these two or three beasts have all to themselves a cowshed that not so long ago was home to several dozen animals.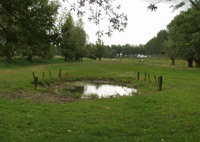 And now that the animals have gone or they're kept inside all year round or they have a bath tub to drink from perhaps with a mechanism that keeps the water at a constant level or they man the water pumps themselves, well now the watering places are filled in. All in the name of progress and efficiency. An extra dozen square yards dedicated to overproduction.


More pictures
Our Meetjesland — Table of Contents — Find something in this Meetjesland website


MijnPlatteLand.com

Most recent update : 22-04-2021
Copyright Notice (c) 2023