The Meetjesland in the north of East-Flanders, Belgium
"Watervliet,
a King's Wish and a Knight's Dream"
That's the title of a marvelous book about a marvelous town. It was written by Jozef De Paepe and published in 1999 by Taptoe. Taptoe has published quite a few fine books about our Meetjesland.
One of these was also written by Jozef De Paepe. It is called "Heerlijk Watervliet". Fully aware of the proverb "Traduttore tradittore" I ask myself "Now how am I going to translate this title?" The word "heerlijk" means "agreable" but it also meant "like a gentleman" or "like a lord". But that's only half the answer: Watervliet was a "Heerlijkheid" which meant a "Seigniory" or "the territory over which a Lord holds jurisdiction".
Unfortunately both of these books are now out of print. We are most grateful to the author and the copyright holder for allowing us to publish some of this material here for you.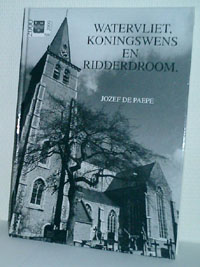 Here follows the dedication published in "Watervliet, a King's Wish and a Knight's Dream" in 1999.

DEDICATION

On the 18th of October 1944 I spent the night in a small cellar of a modest house situated on the corner of the Appelstraat (Apple Street) and the Drijdijk (Three Dikes) at Waterland-Oudeman. It belonged to the Van Leeuwe family. Between 9:30 and 10 o'clock in the morning three light armoured vehicles came towards us from the direction of the Roste Muis. Dad stopped them to make sure they wouldn't end up in the minefield planted on and about the road by the Germans. That's why the crews staid with us until the engineers had demined the road. They belonged to the C-Squadron of the 17th Duke of York's Royal Canadian Hussars. The petty officer who was in charge gave me a cigarette, a "Player", the first I ever smoked. I was only sixteen but mum allowed it in vue of the circumstances.

Most of those men have no doubt died. Those who were then twenty-five are now well into their eighties, on condition that they managed to get home unscathed from this slaughter and that they could keep going till now. I know no names but the face of this calm friendly petty officer is indelibly engraved in my memory. To him and his soldiers I dedicate this work, as a thank you, yes also for that cigaret then, but especially for the freedom they brought us.

Perhaps they will never know, yet someday I hope I will find the opportunity to hand them a copy of this work as a symbol, because they belong (or belonged) to a great people, in the real and in the figurative sense, to whom I am particularly grateful.

Jozef DE PAEPE
The author.
I wish these few webpages could be a small advance on that symbolic copy of Mr. De Paepe's book. Let's hope the sons of those Royal Canadian Hussars or their sons will find them soon. So they may know: we, on this side of the pond, haven't forgotten their sacrifices.
Watervliet's prehistory - Recent pictures of Watervliet - About Watervliet


All about Watervliet
Our Meetjesland — Table of Contents — Find something in this Meetjesland website


MijnPlatteLand.com

Most recent update : 22-04-2021
Copyright Notice (c) 2022