The museums of our Meetjesland
The Cooper Museum in Nevele
In February 2010 Nevele was enriched with a superb new museum. A very fine and living museum because Marleen Bonami makes tubs and barrels and not just for her visitors. She also organizes workshops where the visitors themselves make their barrels.
It all began with Achiel Bonami, Marleen's father. He learned the cooper trade in the 1950s in the then flourishing Meiresonne Brewery in Ghent. That was at the time one of the biggest and most modern breweries in Belgium. After WW II Belgium still had more than 770 breweries. As a matter of fact the Meiresonne Brewery had her roots in Bellem and Landegem, two Meetjesland towns.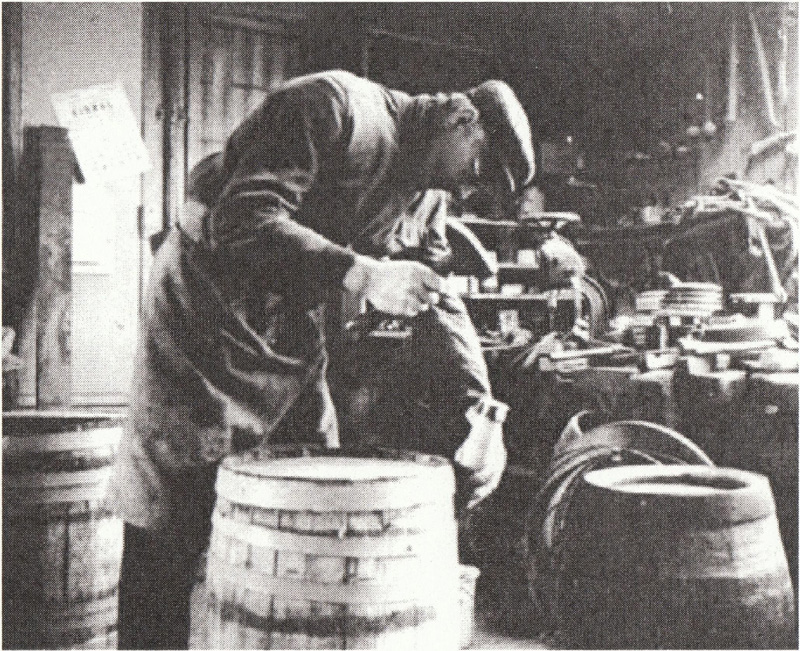 Until fairly recently, beer was delivered to the pubs in oak casks and all bigger breweries had coopers in their employ to make and repair these casks. And in those days that was hard work. Yet, Achiel started his own coopery works to help people and companies in his neighborhood and no doubt also to earn an extra cent or two after his hours in the brewery.
Brewery Meiresonne went the same way as so many years later Krüger in Eeklo and so many other breweries: they were taken over by that firm from Leuven and closed. In 1976 everything came to a halt in the Meiresonne Brewery. But years earlier Achiel had already left the brewery because he had so much to do in his own coopery works. For instance he made hundreds of little barrels for the Filliers Distillery of Deinze.
And here his daughter has now installed her Cooper Museum. No doubt as a tribute to her father who would certainly have been pleased if only he could have been there to see it. Marleen not only makes tubs and barrels here (especially for flowers) but she also organizes workshops to give the participants a chance to learn to assemble their own barrel.
Marleen can also map out a bicycle route for you or organize a tour by horse drawn wagon and she works together with the best B&Bs in this region to make your stay in this quietly beautiful land of ours very agreable and instructive.
By the way, a Filliers barrel made by Achiel Bonami is now worth its weight in gold on the antique markets but perhaps some day you might find something else of Filliers such as a glass of Van Hoorebeke gin. We're sure you'll like it.
Cheers !
More pictures of the Cooper Museum
The official website of the Cooper Museum (in Dutch)
More about the Meiresonne Brewery
All about Nevele


More pictures
Our Meetjesland — Table of Contents — Find something in this Meetjesland website


MijnPlatteLand.com

Most recent update : 22-04-2021
Copyright Notice (c) 2023